November 17, 2023 | 3 mins read
Ali Raza & Partners
Website & Branding
Services Offered
Graphic Design
Website Development
Illustration
Photography
Content Writing
The Client
Ali Raza & Partners (AR&P) is a law firm known for providing comprehensive legal services with a client-centric approach. They specialize in various legal services and domains and tailor their expert guidance to meet individual needs, crafting nuanced legal solutions that align with unique circumstances and objectives. AR&P's commitment to staying updated with legal developments ensures clients receive the most current advice and guidance.
The Challenge
The task at hand was to conceive a distinctive legal brand identity that departed from industry norms, incorporating an essence of tranquillity. This identity had to effectively communicate with a diverse audience, accommodating varying levels of legal knowledge and bilingual requirements (English and Urdu). Additionally, we faced the challenge of balancing on-site branding within a confined office space, maintaining a uniform brand image across digital and print platforms, and creating a suite of materials for an impending launch event under tight time constraints. Meeting these challenges necessitated a fusion of creativity, meticulous planning, and unwavering attention to detail.
Implications
We crafted a brand identity that deeply resonated with our clients, instilling a profound sense of trust. Our ability to harmonize the visions of multiple partners and seamlessly integrate them with market insights and research resulted in a unified and impactful strategy.
Additionally, our adaptability proved to be a crucial asset as we swiftly responded to dynamic changes, ensuring the firm's resilience and its position at the forefront of progress.
We carefully cultivated a distinctive brand identity that struck a balance between professionalism and a serene ambiance.
Solution
We carefully cultivated a distinctive brand identity that struck a balance between professionalism and a serene ambiance. This identity was reflected in the design language, where graphic design and illustration played pivotal roles in conveying the unique blend of legal expertise and a tranquil atmosphere. We extended this design philosophy to various collaterals, encompassing business cards, stationery, and client guides, where graphic design played a crucial role.
In tandem, we engaged in comprehensive website development to ensure the online presence mirrored the firm's professionalism and calm approach. This encompassed not only the design but also content writing to provide valuable legal information and services in an easy-to-navigate format.
In preparation for the launch, our efforts extended to photography and videography management, ensuring that both the website and launch event effectively showcased the firm's ethos. These elements, including photography and videography, contributed to conveying the desired professionalism
To complete the immersive brand experience, we designed interior elements such as wall art, signage, window decals, and indoor displays. These physical aspects, which incorporated graphic design and illustration elements, embodied the brand identity, fostering a welcoming and harmonious environment for AR&P's clients.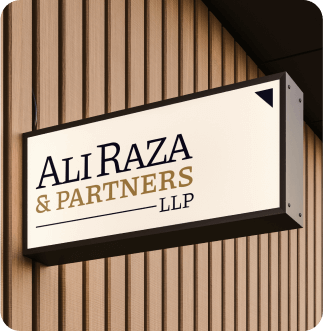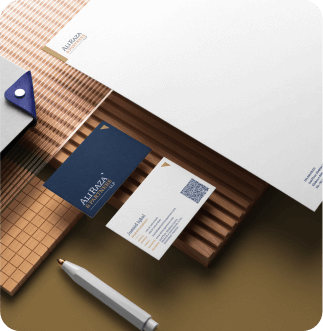 Impact
The successful launch of the brand was met with overwhelmingly positive feedback from both the legal community and AR&P's valued clients. We took pride in having established a robust digital presence that served as a valuable resource for AR&P's clients, helping them gain a comprehensive understanding of their legal requirements. The intuitive and informative website played a pivotal role in this endeavor, offering an array of resources, comprehensive service overviews, and easily accessible contact options. This digital platform embodied AR&P's commitment to transparency, accessibility, and excellence in legal services, solidifying its position as a trusted partner in navigating the complexities of the legal landscape.