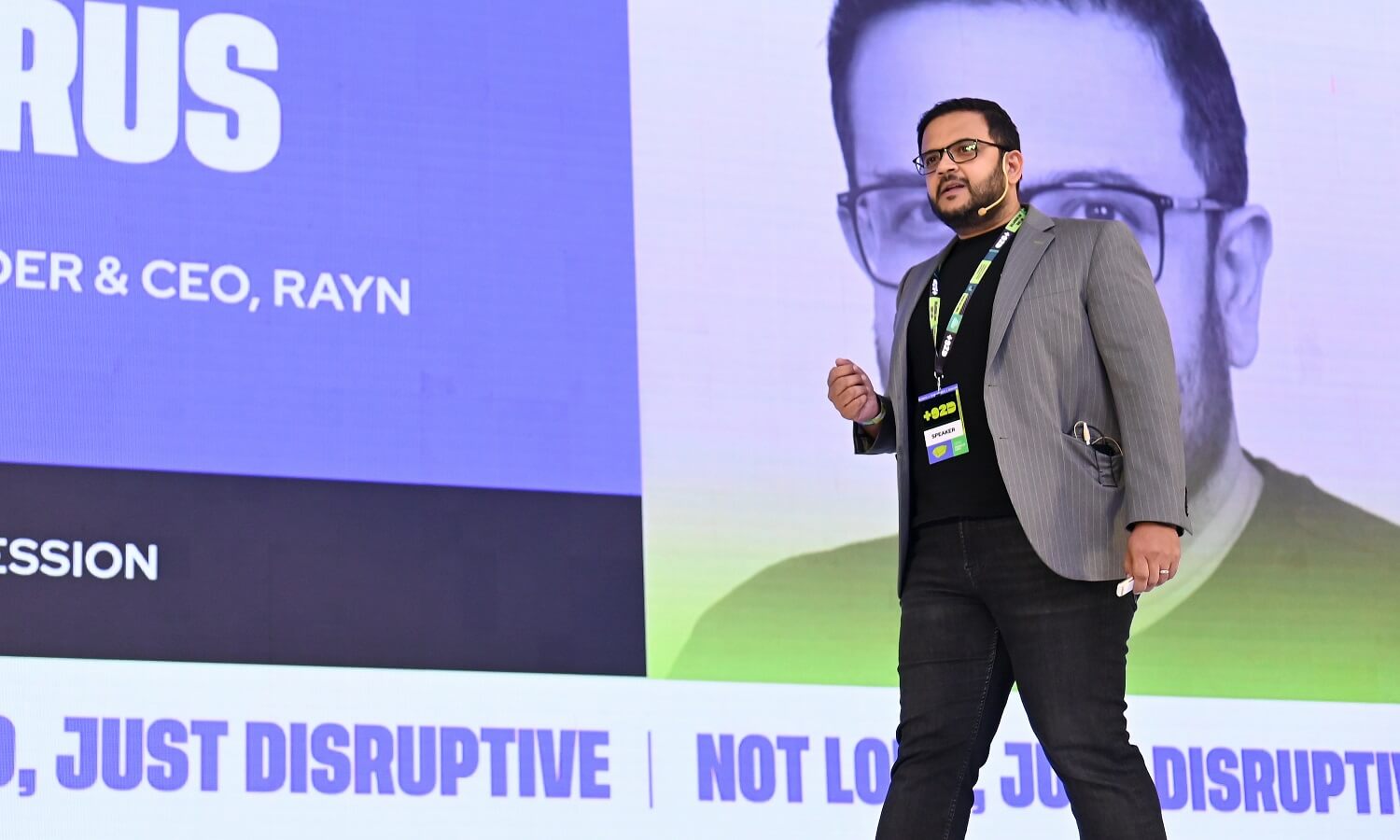 Dressed in a black t-shirt, a pair of jeans and a gray jacket (his signature look), Mo Aidrus , CEO and Co-founder of Rayn, walked on stage at the +92disrupt conference in Karachi, with big letters spelling out 'This is Pakistan's Decade' behind him.
An optimistic thought, a naive perspective we think, but then he begins…
Facts First
"We all know that Pakistan's digital ecosystem is booming. It is a country with a predominately young population with 70% of its population under the age of 35. When you look at the stats of smartphone subscribers or cell phone subscribers, a lot of the 70M+ consumers are on digital media platforms. But we're just getting started."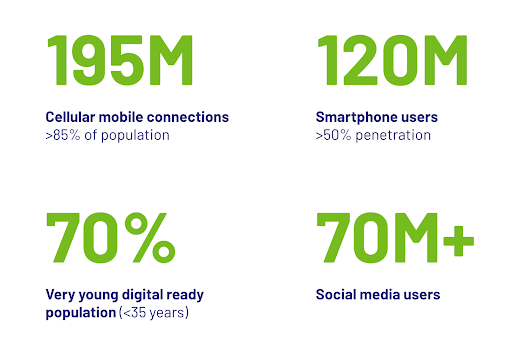 ''Looking at the VC investment per capita, Pakistan is still very low on the totem pole.'' Not focusing on the top two on the table he proceeds to draw a comparison between two countries that are extremely similar in demographics to Pakistan, Indonesia, and Brazil.
The former brings in 15x times of VC per capita and the latter 30x of that of Pakistan.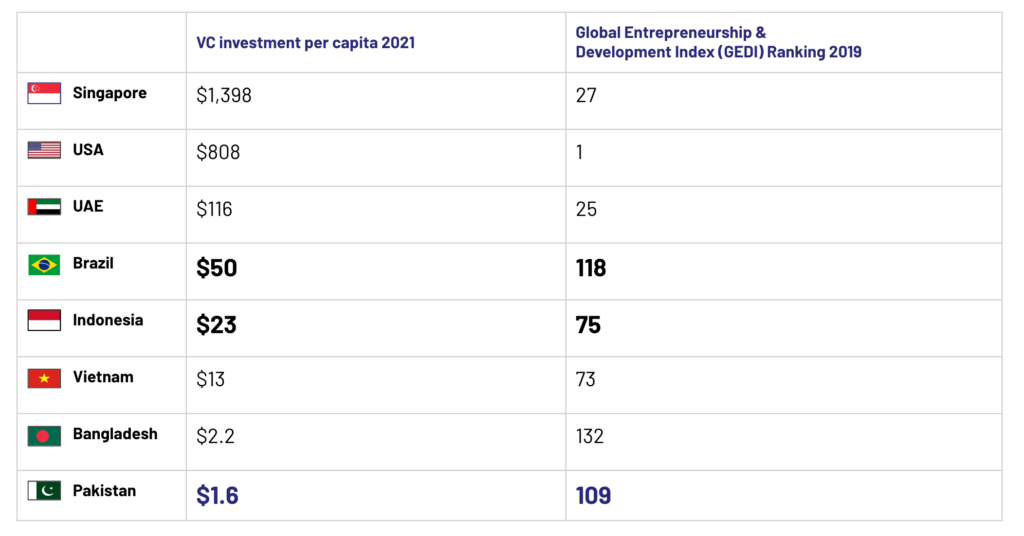 What have these two countries been doing on digital platforms?
"We as Pakistanis always complain that our ease of doing business is extremely low and our crime rate is extremely high but look at the country of Indonesia."
Indonesia Ranks (As of 2022)
73/190 – ease of doing business
96/180 – corruption index globally
"And yet out of the country of Indonesia, Gojek was born. A company that started as a simple call center and over a 10-year period became a super app. It first dominated the local market – a lesson for all entrepreneurs that you have to focus on your own country's problems first when you're building tech – and then went on to dominate the entire ASEAN market."
How Gojek changed Indonesia?
Brought $10B into the Indonesian economy
Created 5000 jobs
Almost a million merchants participating on the platform & entering the gig economy
Merger with Tokopedia in 2021, becoming the Largest Southeast Asian technology company
"They have gone to create a movement in Indonesia, which has allowed 14+ unicorns to be born and become thriving businesses in Indonesia today."
Brazil Ranks (As of 2022)
124/190 – ease of doing business
7th highest crime rate globally
"All the problems that we have in Pakistan, Brazil shares most of them. And yet a company, Nubank, goes on to become the largest digital banking platform in the world."
"Starting off with a few million subscribers, Nubank gets a digital banking license and is now serving 50 million customers, with some of them coming into the financial sector for the first time."
What have they achieved?
"A lot of parables and lessons where we all in Pakistan can learn. You have to extricate yourself from drawing-room conversations and stop using these excuses as a nation from achieving what these two countries have."
He then tells the audience he needs their help. He directs them, a room full of entrepreneurs, global VCs, to-be founders, professionals, and young talent; full of dreams and aspirations, desperate to achieve something, to repeat after him.
This is Pakistan's Decade

And the room vibrates with a sense of hope, courage and affirmation that yes this can and will be Pakistan's decade.
What has Pakistan achieved in 2022 alone?
Mo lists down all the things that citizens of Pakistan have faced in the past 8-9 months, a change of government, import bans, floods and soaring inflation rates and yet he says ''a company like Nayapay goes on to raise $13 million."
He further adds that there are four other companies that simply kept their heads down, focused on their people and built companies for solving Pakistan's problems.
Dastgyr – Raised $37M in the largest Series A funding
Dbank – Raised $17.6M in the largest seed round funding in Pakistan
Cloudways – Acquired for $350M by Digital Ocean
Price Oye – Maiden investment by Peter Thiel of $7.9M
These investments have been made over the same period of 'doom and gloom' of the past 8-9 months, with first time global investors coming in such as Sequoia Capital.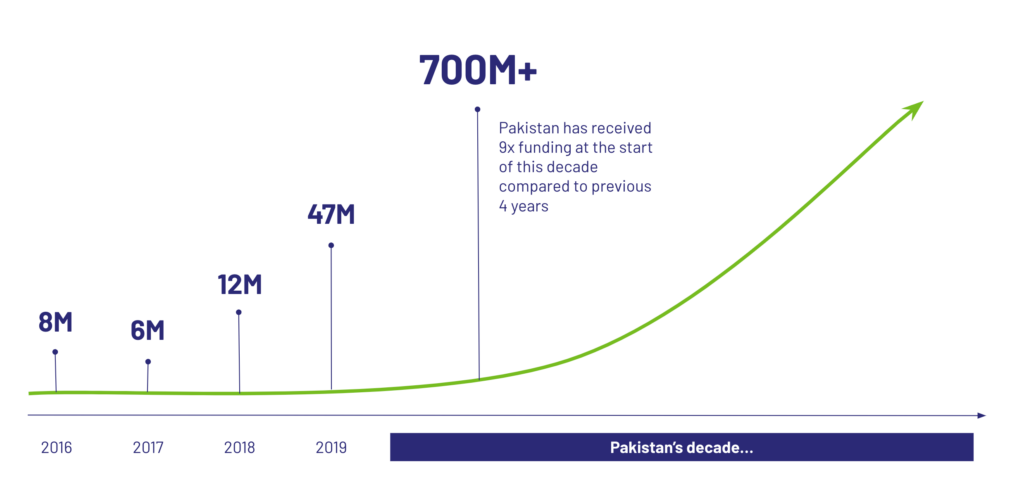 Source: Indus Valley Capital Investor Letter, Tribune
His closing notes advise the audience that "we as a nation need to stop making excuses for things we can't control…In the last two years alone Pakistan has raised 9x of capital that it did not earn in the last decade."
He says investors will continue to back Pakistan if there is credibility of teams, meaning and purpose in what you're building, solid fundamentals and a plan to play long, over a period of 8 -10 years.
And just before he ends his speech he urges that "instead of being consumers of tech go on and be builders of tech." Mo Aidrus reminds the audience to have the self belief that "we all can be the entrepreneurs, designers, engineers, and data scientists that can build amazing platform companies in Pakistan."
A loud applause echoes in the banquet hall as he walks off stage.